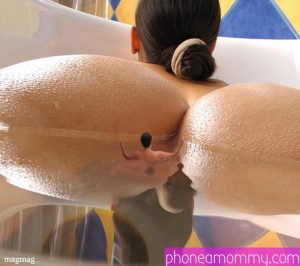 You will be my human dildo slave and we are going to have so much fun. I am going to take a bath with you and then I am going to take a shower with you.  You may be scared because you are a tiny man but I will make sure that you are safe and sound.  My giantess shower is washing me all over my tits, my pussy and my ass and I am loving every single second of it, I hold you in my hand and I make sure that you are ok.
While I take my shower I am going to mush you against my wet tits and push your head in the nipple.  I am going to mush you whole face against my nipples and though it is so small so small I want you to make sure that you stick your tongue out of your mouth.
You feel so good against my tit that I want you to keep mushing your face against it.  Now I am going to open my mouth and suck your entire head. It feels good to have you in my mouth and I love sucking various parts of you.  Now let me sandwich you between my wet tits and push you up and down and jerk off your entire body between my tits.  I know that you like it because it feels good to me and I know that it feels good to you.
While I am at it I want to push you inside my sweet pussy and you will enjoy it in there.  In and out of my sweet cunt you will go and you will like it.  Do you feel how nice and warm and wet it is in there?  Don't you wish that you could stay in there forever and never come out? I would love that also but I want to have you come out time and time again to play with me because I need you to make me feel good and keep me company.
Now let me fill my tub and have you swim inside of it as if it is the ocean.  I am like a giantess mermaid in the water and you are my cute, little and wet tiny man.  Swim all around the tub while I lay inside of it and look at my giantess ass cheeks as if they are giantess mountains. Swim to them and try to climb up on them as if they are mountains in the water. Now let me spread my giantess ass and you will enter them and reside in my ass for a few minutes and I will shit you out, rinse you off and put all of you inside of my sweet giantess pussy.  Don't you enjoy how warm it is in there? Ahh, so do I darling and I will use your entire body to fuck my giantess cunt like a human dildo.  You are indeed my human dildo slave and your purpose will always be to please my sweet giantess cunt.
Do you want to experience giantess phone sex with me and feel what it is like to fuck a beautiful giantess woman as well? The  do not delay any further, give me a call right away.
Tawny
1-888-430-2010
Click Here to chat with a phone sex mommy!
#ab/dl #abdl #giantessphonesex #giantesskink #giantesswoman #giantess #abdlcommunity #giantessporn #giantess fetish #tinyman #shrunken man