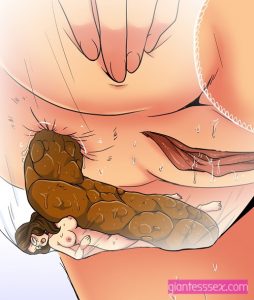 Greg scurried behind a table leg, hoping and praying that Mercy hadn't seen him yet. He hadn't looked behind himself once, just ran as fast as his little legs could go, trying to hide as he felt the floor shake from her pounding footsteps.  It was rattling his body so bad that he was afraid that he might get jostled out in the open where she could see him! He pushed up against the table leg as hard as he could, his hands scrabbling on the wood.  He started to shuffle around the leg a bit, trying to make sure that it stayed between him and the giantess… but it didn't matter. Just when it seemed like she was walking past him, her hand came flying down and wrapped around him, plucking him up to hold him on front of her!  "Silly tiny man, you didn't think you were going to hide from me, did you? I could hear your panicked breathing on the way on the other side of the house!" She giggled at him as she poked him in his belly to him squirm. "Running away from me wasn't very nice, Greg. I'm afraid I'm going to have to punish you for that. Making a break for it when I was about to use the bathroom! You saw an opportunity and took it, I'll give you that much." She waggled a finger at him, like he was a naughty child. "But you interrupted me, and I still have to have to use the bathroom. Ever heard of scat punishment, dear?"
Greg had not heard about that, but started to get concerned regardless, since the smirk on her face probably didn't mean good things for him. She started to tug her pants down, leaving her standing there in nothing but a sheer pair of panties and Greg wiggled in earnest when she moved to slip him down the back of them! It didn't do any good, of course, he was pushed halfway between her ass cheeks, an no amount of struggling was getting him out of this position. Mercy started walking around like nothing new was going on, doing her chores and fiddling around the house. It wasn't too long (definitely not long enough)  though, before he could feel the muscles  on either side of him squeezing down and her skin was growing tight. He could hear and feel little releases of air coming out of her ass, he didn't pay attention to it until he swore he could actually hear her asshole stretching out. He turned his head around to watch in horror her rim opening up as a thick turd was pushed out. It was going to hit him like this! That still didn't do any good though, and soon the turd was pushing him so hard that he fell into the panties and it just kept on going, smothering him and covering his whole body! What would you do in this happened to you? Call me for some giantess kink phone sex to tell!
Aunt Brenda
1-888-430-2010
Click Here to chat with a phone sex lady!
#tinyman #giantess #scatpunishment #scatokay